The World Health Organization (WHO) is calling for more "aggressive" action to curb the coronavirus in Southeast Asia, after the European Union, now at the epicentre of the coronavirus pandemic, moved to seal off its borders.
Southeast Asia is facing a wave of infections that originate from an event at a mosque on the outskirts of Kuala Lumpur attended by some 16,000 people. Malaysia now has the biggest outbreak in the region.
Europe has moved to close its external borders as hard-hit Italy reported an additional 345 deaths from the virus, and France imposed a draconian lockdown unseen during peacetime. In the United States, meanwhile, the virus has now spread to all 50 states.
Globally, the virus has infected 184,976 people and killed just more than 7,500, according to the WHO. Almost 80,000 people have recovered from the infection, according to data collected by Johns Hopkins University.
Here are all the latest updates:
Wednesday, March 18
11:05 GMT – Infections could reach 10 million if Germans don't act: official
Germany could be dealing with 10 million coronavirus infections in the coming months if its citizens do not adhere to measures aimed at slowing the spread of the virus, the country's top disease control official said.
"We have an exponential development in the epidemic," Lothar Wieler, president of the Robert Koch Institute, said in Berlin.
He appealed to Germany's 80 million people to limit contact with others.
11:00 GMT – Iran reports spike in deaths
Iran reported 147 more deaths from the coronavirus, its single biggest jump.
The 15 percent spike raised the death toll to 1,135 people nationwide.
The rise in deaths comes as the number of infections continues to grow each day, with some 17,361 people infected, according to Iran's deputy health minister, Alireza Raisi.
Bank employees wear protective face masks and clothes at work in Tehran [Ali Khara /WANA via Reuters]
10:40 GMT – Coronavirus can survive on some surfaces for days, study shows
The coronavirus can survive up to four hours on copper, up to three days on plastic, stainless steel and a day on cardboard, according to research published in the New England Journal of Medicine (NEJM).
Read more about it here.
10:30 GMT – Indonesia reports 55 new cases, biggest daily rise
Indonesia announced 55 new coronavirus cases, taking the total to 227, marking the biggest daily rise in positive cases.
Achmad Yurianto, a health ministry official, also told a news conference that the number of deaths from the disease rose to 19, with deaths recorded in seven different provinces, while 11 patients had recovered.
A member of cleaning staff disinfects a seat screen of an Emirates Airbus A380 [Reuters]
10:15 GMT – Pakistan PM: 'Cannot afford' to shut down cities
Pakistani Prime Minister Imran Khan has called upon his countrymen "not to panic" amid a spike in coronavirus cases in the country, warning that the spread of COVID-19 was inevitable and that Pakistan cannot currently afford the economic cost of shutting down its cities.
Read more here.
10:07 GMT – Total of 276 Indians abroad have tested positive to date
A total of 276 Indians abroad have tested positive for coronavirus to date, an Indian government minister said.
The vast majority, 255, tested positive in Iran, with others in the United Arab Emirates, Italy, Kuwait, Sri Lanka, Rwanda and Hong Kong, India's minister of state for external affairs, said in a written reply to a question in parliament.
09:15 GMT – In Pictures: How Qatar is coping with the pandemic
With more than 400 confirmed cases, Qatar has implemented a series of measures to help contain the outbreak.
View our photo essay here.
On Sunday, Qatar announced a financial package that will provide incentives amounting to 75 billion Qatari riyals ($23bn) [Sorin Furcoi/Al Jazeera]
09:05 GMT – Malta to stop all incoming flights from Saturday
Malta will stop all incoming passenger flights on Saturday and only allow cargo, humanitarian and repatriation flights to land to stop the spread of coronavirus.
The Mediterranean island, which depends heavily on tourism, has reported 38 cases, of which 32 were people who had caught the disease abroad.
08:57 GMT – Qatar Airways lays off 'around 200 staff'
Qatar Airways laid off around 200 employees, all Filipino nationals based in Qatar, according to the Philippine Labour Secretary.
Silvestre Bello told Reuters news agency around 200 Filipinos were unexpectedly laid off by the airline.
08:50 GMT – Philippines confirms 15 new cases
The Philippines' health ministry confirmed 15 new cases of coronavirus, bringing the total number of cases to 202.
08:45 GMT – Nigerian footballer Obi Mikel quits Turkish club
Former Chelsea footballer John Obi Mikel has parted ways with his Turkish Super Lig club Trabzonspor after he refused to play due to the coronavirus pandemic.
The player's two-year contract was cancelled on Tuesday following his social media post confirming he was not comfortable playing until the coronavirus outbreak was over.
Read more here.
In an Instagram post, Mikel called for the cancellation of the league, saying 'there is more to life than football' [Getty Images]
08:40 GMT – Some US embassies to suspend routine visa services
A number of US embassies worldwide will suspend routine visa services, the US Embassy in South Korea said.
The suspension will affect visa services at embassies in countries with a US State Department travel advisory level of 2, 3, or 4, the statement said.
According to the US State Department website, as of Wednesday the list includes around 100 countries.
08:23 GMT – France hopes for slowdown in eight to 12 days
France could hope to see the number of coronavirus infections to slowdown in about eight to 12 days following the government's decision to lock down the country, health minister Olivier Veran said.
"We will intervene where necessary to make sure people respect the confinement. When I look outside my window, I see that gradually people are getting the message," Veran told LCI TV.
08:15 GMT – India's poor testing rate may mask coronavirus cases
Indian authorities have said they will not expand coronavirus testing, as most affected nations are doing, despite criticism that limited testing could leave COVID-19 cases undetected in the world's second-most populous country.
The WHO has urged countries to test as widely as possible to curb the pandemic, but India has only been testing those who have travelled from affected countries or come in contact with a confirmed case and shown symptoms after two weeks of quarantine.
Read more here.
Indians waiting at a train station wear protective masks in Mumbai, India [Rajanish Kakade/AP]
08:07 GMT – Poland to receive gear, tests from China
Poland will receive more than 10,000 test kits and tens of thousands of other protective items such as masks, goggles and shoe covers from China to help tackle the coronavirus outbreak, Poland's Foreign Ministry said in a statement.
China will send 20,000 masks, 5,000 protective suits, 5,000 medical goggles, 10,000 single-use medical gloves and 10,000 shoe covers to Poland, the statement said.
07:40 GMT – Moldova reports first death
Moldova reported its first death from coronavirus, the country's healthcare ministry said.
The eastern European country of 3.5 million, has confirmed 30 cases of coronavirus so far.
Customs officers control cars of passengers arriving at the Leuseni Custom, Moldova [Dumitru Doru/EPA]
07:11 GMT – Malaysia shuts border with Singapore
Malaysia shut its borders with Singapore, beginning a 14-day partial lockdown after coronavirus infections in the country spiked to the highest in Southeast Asia.
Malaysia now has 673 confirmed cases of coronavirus.
Vehicles form a long queue to enter a checkpoint in Singapore from across the causeway of the southern Malaysian state of Johor [Catherine LAI/ AFP]
07:07 GMT – South African airlines SA Express suspends operations
South African state-owned airline SA Express said it would suspend operations from Wednesday until further notice because of recent developments including the impact from the coronavirus pandemic.
SA Express entered a form of bankruptcy protection earlier this year and flies to domestic and regional destinations.
06:55 GMT – South Africa's confirmed cases rise to 116
South Africa's health ministry reported that the number of confirmed coronavirus cases has risen by 31 since Tuesday to 116.
As government rolls out drastic measures, South Africans have begun to come to terms with life amid the COVID-19 pandemic. Read more about it here.
_____________________________________________________________________________
This is Mersiha Gadzo in Doha taking over from my colleague Kate Mayberry in Kuala Lumpur.
05:30 GMT – Canada and US to partially close borders: Globe and Mail
Canada and the US will announce a deal to partially close their borders on Wednesday, the Globe and Mail reported, citing sources.
The agreement will close the borders to non-essential travel but allow the transfer of medical supplies, food and other goods, the report said, citing an unnamed official.
Canada closed its borders to all foreign nationals except US citizens and permanent residents on Monday. Prime Minister Justin Trudeau, who is under quarantine after his wife Sophie tested positive for the virus, earlier urged people to stay at home and restrict contact with others.
04:30 GMT – Vietnam confirms second case linked to Malaysia mosque event
Vietnam has confirmed an additional case of coronavirus linked to an event at a mosque in Malaysia that attracted more than 16,000 people.
The latest known patient, a 36-year-old man, returned to Vietnam on March 4 on VietJet flight VJ826 from Kuala Lumpur, the health ministry said.
Vietnam now has 67 cases of coronavirus.
04:25 GMT – WHO calls on Southeast Asia to take "aggressive" action on virus
The WHO has called on Southeast Asia to take "aggressive" action to combat the coronavirus, warning that some countries were heading towards community transmission, which could overwhelm already weak public healthcare systems.
"We need to immediately scale up all efforts to prevent the virus from infecting more people," said Poonam Khetrapal Singh, WHO's regional director.
"More clusters of virus transmission are being confirmed. While this is an indication of an alert and effective surveillance, it also puts the spotlight on the need for more aggressive and whole of society efforts to prevent further spread of COVID-19," she said.
03:25 GMT – New Zealand confirms new cases, all from overseas
New Zealand has confirmed eight new cases, all related to people who had recently travelled overseas, the health ministry said in a news conference on Wednesday.
This takes the total number of confirmed COVID-19 cases in the country to 20.
New Zealand implemented tough border restrictions on Saturday, asking everyone arriving in the country to self-isolate, and has banned big public gatherings.
03:15 GMT – Hong Kong to order all international arrivals into quarantine
Hong Kong will start issuing orders for 14-day compulsory quarantine to all people arriving in Hong Kong from overseas, regardless of whether they are Hong Kong residents.
The measure comes into effect on March 19.
03:10 GMT – Colombia turns to mass home isolation for the elderly
Colombia will enforce mass home isolation for the elderly, President Ivan Duque said on Tuesday.
The measure will come into effect on Friday.
The United Kingdom has also been considering whether to ask the elderly, who are more at risk, to stay at home.
03:05 GMT – Brazil seeking state of emergency to tackle virus
Brazil will seek authorisation for a state of emergency to allow it to scrap fiscal targets and free up funds to combat the coronavirus crisis, the government said on Tuesday, as President Jair Bolsonaro announced his second COVID-19 test was negative.
In a statement from the presidency, the government said it will ask Congress to authorise emergency measures until December 31.
Brazil reported the country's first confirmed death from the outbreak on Tuesday.
"In view of … the need to increase public spending to protect the health and jobs of Brazilians and the prospect of falling revenues, the Federal Government will request the National Congress to recognize the state of emergency," the statement from the president's office said.
02:55 GMT – 'Human biosecurity emergency': Australia PM
Australian Prime Minister Scott Morrison has declared a "human biosecurity emergency", giving the government the power to close off cities or regions, impose curfews and order people to quarantine if seen as necessary to contain the spread of the virus.
Official travel advice, as we reported earlier, has been raised to an unprecedented "Level 4: Do not travel" to any country in the world. Any non-essential indoor gatherings of more than 100 people have also been banned.
"Life is changing in Australia," Morrison said during a televised news conference. "Life is going to continue to change, as we deal with the global coronavirus. This is a once-in-a-hundred-year-type event."
Australia has recorded approximately 425 coronavirus infections and five deaths.
Australian Government Department of Health✔@healthgovau
See the latest coronavirus (#COVID19) announcement from the Prime Minister about: gatherings, travel and transport, bulk purchasing, aged care, schools and social distancing http://pm.gov.au/media/update-coronavirus-measures …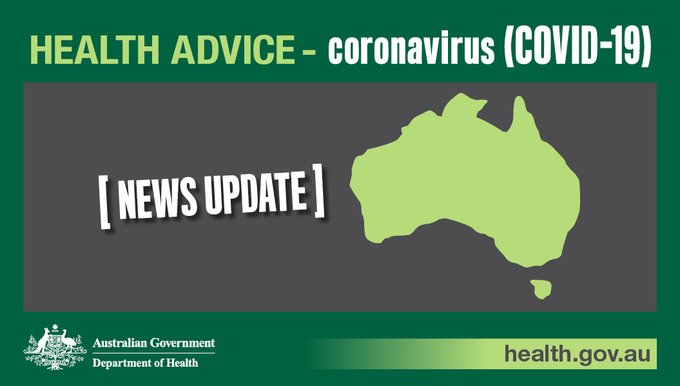 5210:30 AM – Mar 18, 2020Twitter Ads info and privacy82 people are talking about this
02:35 GMT – The body fights back: Australian researchers track immune system response
Researchers at Australia's Peter Doherty Institute for Infection and Immunity have mapped the immune system response of one of the first people to get COVID-19 in Australia, to find out more about the way in which the body fights the infection.
They took samples from an otherwise healthy woman in her 40s who had been diagnosed with a mild-to-moderate case of the disease, to track her body's response over time.
"Three days after the patient was admitted, we saw large populations of several immune cells … often a sign of recovery during seasonal influenza infection, so we predicted that the patient would recover in three days, which is what happened," said University of Melbourne Research Fellow Oanh Nguyen.
"We showed that … in an otherwise healthy person, a robust immune response across different cell types was associated with clinical recovery, similar to what we see in influenza," added Katherine Kedzierska, a professor at the University of Melbourne.
The paper has been published in NatureMedicine, a medical journal.
02:05 GMT – Contact tracing, self-isolation crucial: Diamond Princess report
Researchers from the National Institute of Infectious Diseases in Tokyo have released a preliminary investigation into the coronavirus outbreak on board the Diamond Princess.
The cruise ship, with 3,700 passengers and crew, was quarantined off the port of Yokohama for a month from February 3 after a passenger who got off in Hong Kong was confirmed with COVID-19.
The report focuses on the 20 cases confirmed among the crew, finding that transmission from passengers to staff had started before the ship was put into quarantine. Most of those who got the infection worked in food service for the crew and also passed it on to those who shared their cabin.
The report's authors said the findings indicated the need for "swift" investigation as soon as a COVID-19 case is detected in a place where large groups of people gather and the importance of self-isolation for close contacts.
The Diamond Princess was quarantined at a port in Yokohama for a month [File: Eugene Hoshiko/AP Photo]
01:50 GMT – South Korea reports 93 new cases
South Korea has given an update on its numbers, with the Korea Centers for Disease Control and Prevention saying there were 93 new cases on Wednesday, bringing total infections to 8,413.
While slightly higher than the 84 recorded on Tuesday, this is still the fourth day in a row that the country has reported fewer than 100 new infections.
01:43 GMT – China reports 13 new cases and 11 deaths
China's National Health Commission has released its latest data on the outbreak there – 13 new confirmed cases were reported on Tuesday, down from 21 cases the day before.
That brings the total number of confirmed cases in mainland China to 80,894, the health authority said in a statement.
The death toll from the outbreak in mainland China had reached 3,237 as of the end of Tuesday after 11 people died the previous day.
Those deaths were all in the central province of Hubei, with the provincial capital Wuhan accounting for 10 of the fatalities.
The number of imported cases of the virus in mainland China reached 155 as of Tuesday, up 12 from a day earlier.
00:50 GMT – Australia advises citizens not to travel
Australia has urged its citizens not to travel, given the risks from the coronavirus as it spreads around the world, and heightened border controls that are forcing airlines to cancel flights.
It urged anyone already outside the country to return.
"There may be a higher risk of contracting COVID-19 overseas. You may come in contact with more people than usual, including during long-haul flights and in crowded airports," the government said in upgrading the advice. "Healthcare systems in some countries may come under strain and may not be as well-equipped as Australia's or have the capacity to support foreigners."
—
I'm Kate Mayberry in Kuala Lumpur with Al Jazeera's continuing coverage of the coronavirus pandemic.
For all the updates from yesterday (March 17) please click here.
SOURCE: AL JAZEERA AND NEWS AGENCIES